This week on "Digital Marketing This Week" we covered…
some possibly disturbing trends in mobile,
how 4 little letters could help to improve your conversions,
tips on how you can connect to your customers better on Facebook,
the latest feature from Google Analytics, and
why it's important to remember who you're talking to.
Read all about it below or you can watch the full episode here.
First up…
Are you using mobile marketing correctly?
Marketing Land talks about the latest trends in mobile search based on a research by Yahoo.
"Effectively, the browser has been sidelined on mobile. This has major implications on the digital industry in general and the content and media industry in particular. Historically, the media industry has relied almost entirely on search for user and traffic acquisition, building entire teams around SEO and SEM on the desktop web. But search engines are predominantly accessed from a browser. If mobile users aren't using browsers, the media industry will have to look for new approaches to content discovery and traffic acquisition."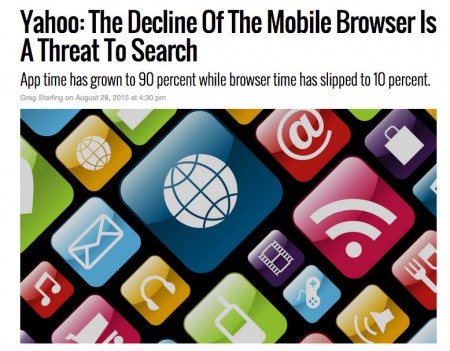 How does this affect your mobile marketing strategy?
Search marketing still works, but only because desktop users still use it as their primary way to drive traffic. This isn't the case for mobile anymore. On mobile, users rely on social and messaging apps to consume media. And while users spend 90% of mobile time with apps, they do so on very specific apps.
Yahoo says that social, messaging and entertainment apps take up 51% of mobile user time–so this means that there's a lot more opportunity for you to focus on developing great social ads. Think of adding Facebook and Twitter ads and YouTube video ads into your marketing mix.
YouTube presents a really massive opportunity for visibility–time spent on the YouTube app was up by 60% and average viewing session on mobile is now more than 40 minutes. So if you're thinking of investing in some paid ads, YouTube might actually be your most effective option.
Remember though–online ads don't necessarily give you a captured audience as they can easily skip the ad or ignore it altogether. So while they might see your ad because you're placing it on the right channels, they might not even catch or hold their attention if it doesn't offer well-made, informative, relevant content.
Read the entire post by Marketing Land here…
#FOMO (Fear Of Missing Out) is real–and it could be key to your conversions
Crazy Egg talks about the 7 questions every online customer has…and it turns out, motivation to purchase or convert has a lot to do about a customer's fear of missing out (FOMO).
"Your ability to give them that something determines whether they take up your offer and your landing page converts."

Given this, social proof could really give your offers a boost–be sure to add that on your landing pages. Not only does it build trust, it also shows the demand people have for what you're offering.
Try to build up the exclusivity and limited-nature of your offer. Do they get member's only access? Discounts? What perks can opting in give them that they might miss out on if they don't sign up today?
Highlight an emotional perk that they can immediately get and make sure your copy reflects that.
Read the full article from Crazy Egg here…
Always remember that you're marketing to people
Unbounce gives us an article that reminds us that our marketing efforts is essentially all about us trying to speak to people…
"…when you're heads down trying to score more clicks or conversions, it's easy to lose sight of the bigger picture: That a real person is behind every click, sign up, social share and conversion."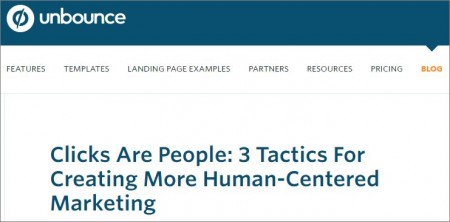 Find a good middle between optimizing for search engines and writing content that people will want to read. Remember, if it feels forced, it probably is. Here's the approach I usually take–whatever content you're trying to create, write your copy as if you were talking to a friend over a cup of coffee. Simple, engaging, entertaining.
There's no one-size-fits-all method to marketing. You can't talk to everyone. Be very specific about who you want to talk to and reach. Consider everything from demographics down to their interests.
Bottomline? Getting to know the people you're marketing to and creating content tailored to them is the secret to becoming relevant and engaging to your audience.
You can check out the full post from Unbounce here…
Get more out of Facebook with page messaging
Facebook's latest feature means it's easier for you to connect with your customers and users. And straight from the brand itself, they're giving us a guide on how you can really maximize page messaging.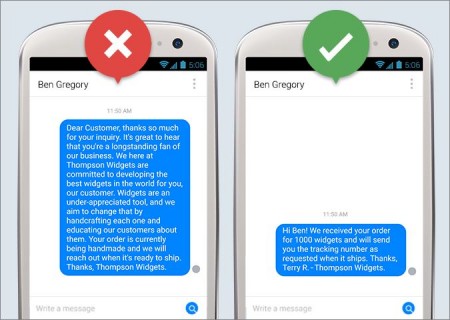 "As Page Admins consider turning on messaging for their Page or using new messaging features, you may wonder how best to use messaging as a business communication channel. Here are our recommendations on using messaging for Pages most effectively."
A few reminders–
Facebook has proven to be one of the best ways to connect with customers–but only if you're interaction with your users are good. This means you have to go into this prepared…be there to answer questions, reply promptly and essentially have awesome customer service.
Don't be lazy. The reason why this feature could work is because you're making your users feel like they have a direct connection to someone from your company. Keep your replies personalized.
Finally, while it's a direct connection to your audience, try to be as concise as you can. Keep in mind your tone when you reply. Like I said, think of it as if you're talking to a friend over coffee.
Read all about Facebook's tips on how to use page messenger here…
Get better data with Google Tag Assistant Recordings
Google Analytics announced a new feature called the Google Tag Assistant Recordings that helps instantly validate your Google Analytics.
"This tool helps you instantly validate your Google Analytics or Google Analytics Premium implementation. If it finds data quality issues, it helps you troubleshoot them and then recheck them on the spot. It's available as part of the Google Tag Assistant Chrome Extension."
What can you use it for?
You can now instantly spot and troubleshoot common tracking issues or other concerns about purchases or logins.
It's a great tool to use to make sure that everything on your site is still working perfectly even after you've made an update. It also works even if your site hasn't gone live yet, which means you can check for problems and glitches before your site goes up.
Check out the full article here…
– Mercer
Podcast: Play in new window | Download
Subscribe: Apple Podcasts | RSS