What's new in Digital Marketing This Week?
WordPress updates, Twitter revamps and Live-Chat just to name a few!
Watch it here, or read the summary below.
What can you expect with the new WordPress "Billie" Update


WordPress reports the release of their latest update. "Version 4.3 of WordPress, named 'Billie' in honor of jazz singer Billie Holiday, is available for download or update in your WordPress dashboard. New features in 4.3 make it even easier to format your content and customize your site."
So what new features were added to make using WordPress easier?
It offers text patterns and shortcuts–useful for copywriters and bloggers using WordPress for their sites. Example:
Asterisks and dashes automatically create bullets
# can be used to create H1 tags, ## creates an H2 and so on…
Numbers can be used to create a numbered list
You can use > and you can create a quote
These quick and handy shortcuts means you don't have to fiddle with the toolbar and makes WordPress faster to use.
Easily manage menus in the Customizers where you can create, update and assign menus and get to view it all in a live-preview customizer.
Added security improvements include pre-generated passwords that are stronger (which you can keep or change) and it also has a smarter password strength meter. It also changes the system of password management. Instead of receiving your password on your email, you will now receive a link that will allow you to reset passwords.
The new mobile-friendly list view makes it more user friendly for anyone to access WordPress on smaller screens making it easier for anyone to edit on-the-go.
Google change in search results means you have to focus on your website
Business 2 Community reports that "This month, Google made a change to what's called the 'local pack', or the number of company listings that are displayed in organic search results. Before, there were seven companies in the pack (often deemed 'Google's 7-pack'). Now, there are only three."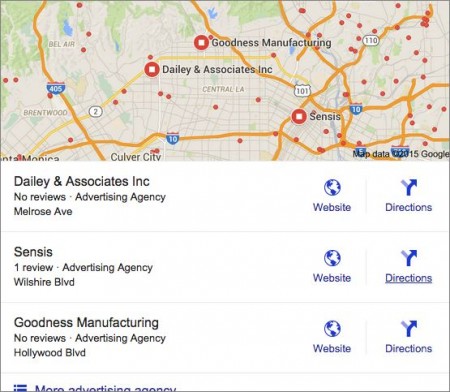 This latest change means…
Businesses should focus more on their website–Google has removed address and phone numbers from the main search result, which means less phone calls and more site visits.
Instead, you get a website link and directions.
You can expect that it will be harder to rank–so I predict that competing for a spot on this list will rise…which means…
You have to make sure your website is properly optimized. Google wants to give users the most relevant search results and that requires a website that is informative and useful.
Why it might be worth investing in Twitter advertising…
Twitter announces "significant expansions to the Twitter Publisher Network, including a new name to better reflect the evolution of the product: Twitter Audience Platform – a simple and effective way for advertisers to reach over 700 million people on and off of Twitter."
The Twitter Publisher Network gets revamped as the Twitter Audience Platform…
What does this mean?
It makes Twitter's advertising potential more appealing to a wider range of marketers by using Twitter's targeting signals based on user's interests, usernames and keywords.
Ad formats have changed–tweet engagement ads will become interstitial and native ads; promoted videos become in-app video ads; app installs will become interstitial or banner ads.
It expands advertising reach by giving advertisers a way to connect with audiences beyond Twitter, giving audiences a more immersive experience on Twitter. For example, promoted videos can play automatically on a device.
Your ads can now become more engaging with the addition of customizable call-to-action buttons or retweet buttons directly within the ad.
That said, if you're thinking of putting money behind Twitter advertising given these new updates, keep the following in mind…
While it's a microblogging platform, Twitter Audience Platform puts new focus on video and other creative formats to better engage your audience. Incorporate something visual to your ad.
You have to put more emphasis on the content–Twitter is making it easy for audiences to engage with your brand and it's easier for the audience to retweet your ad if they find it interesting.
Be creative. You have more wiggle room when it comes to running promotions given the number of ad options Twitter is offering. Take this time to start brainstorming how you can reach a bigger but also more targeted audience on Twitter.
Can your business gain conversions using live chats?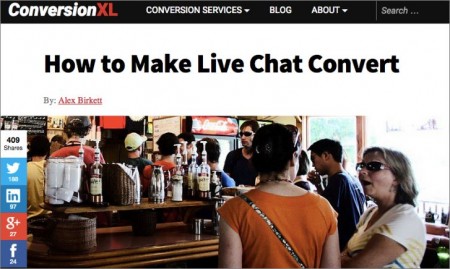 ConversionXL shows marketers the potential of live chats and how you can use it convert in this article.
"…it appears that younger demographics are more comfortable receiving customer support via live chat. The survey also implies that people, in general, are more comfortable with live chat support when the purchase is less important (online shopping) as opposed to complex and important (financial questions). The effectiveness of live chat as a medium, then, depends on the industry you're in."
I find that plenty of businesses benefit from having a live chat option as a way to guide them through processes. And if you think this will benefit your site, here are a few things to keep in mind…
It's a great way to get to know your customers and build a relationship with users. It's important however to make sure that your live chat system offers exceptional customer experience, otherwise, it will just reflect badly on your business.
Response time is important–what is the point of having a live chat system in place when an agent takes an hour to respond to customer inquiries?
Use the system as a way to engage customers by have different "call to actions" on different pages.
Bottomline? It's not a guarantee, but if you do it right, Live Chat has the potential to guide leads into sales.
Here's how to build Twitter traffic…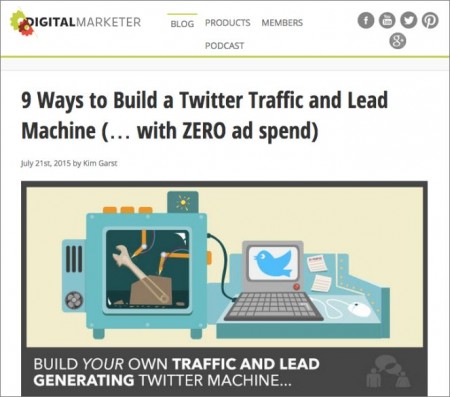 The latest Twitter advertising expansions makes us to wonder how businesses can use Twitter to generate more traffic. Digital Marketer gives us an in-depth article how you can get started, but here are few highlights–
While Twitter is a microblogging platform, it pays to use images to go with your posts. Statistically, tweets with images tend to get more retweets. But you can easily test this out yourself. Send out a tweet with just your headline and send the same tweet but this time, with an image to go with it. See which one performs better.
With Twitter removing the 140 character limit from direct messages, you can now get in touch easier with your customers. It gives you a chance to engage them and actually talk to them and provide valuable customer service.
Tweet regularly. The beauty of Twitter is that it gives you an opportunity to share and give information in small, bite-sized pieces that don't overwhelm your followers.
Finally, avoid the direct sales tweet. Keep it short, informative and relevant. Do not push products on your audience's faces just because you have a platform for it. Give them something useful. They can easily click that unfollow button.
That does it for this week! If you have any questions, please leave them in the comments below, otherwise please take a moment to share with a few friends, would you?
— Mercer
Podcast: Play in new window | Download
Subscribe: Apple Podcasts | RSS