I recently read an article where Seth Godin classified and defined the three kinds of marketing—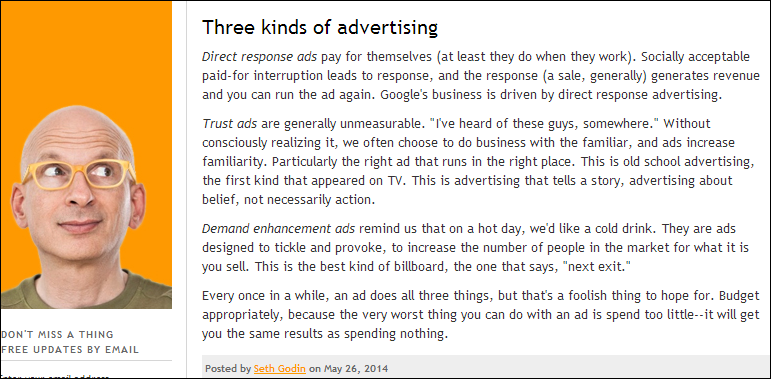 Image credit
Which got me to thinking…if my business had limited resources (read: budget) and I wanted to see results (read: profit), which one would I choose?
Let's hash it out:
Direct response ads work the same way your old-school mailers do. Remember those?
Back then, it involved a particular brand taking the time and effort to literally write to you. They'll usually create content designed to elicit a specific call to action (maybe to sign up for something or purchase a product), print it on a nice piece of paper, seal it up in an envelope and mail it to your home address. While there was no way to tell which envelopes got ripped open, read and ignored, or left to collect dust on their kitchen counters, those that got opened and compelled the recipient to act on it could very well be tracked. And the result was immediate.
Fast forward to the digital age—where the process has been streamlined and simplified so that the effort is cheaper and more efficient.
Instead of physical mail, it's all (well… mostly) virtual now—email, social networks, websites—this lowers the cost significantly.
The process can be targeted depending on demographics and geography—making the entire endeavor more effective and efficient.
If done right, it translates to getting actually results. Immediately.
The entire process is measurable—from unopened emails to successful conversions.
If it works, you can easily replicate the entire thing.
Godin then goes on to talk about Truth ads—
Truth ads are great for branding, but personally, I find that it's only effective if:
You already have a recognizable brand or product.
Have enough money to be consistent on your efforts.
You don't mind not being able to have measurable direct communication between your campaigns and your audience.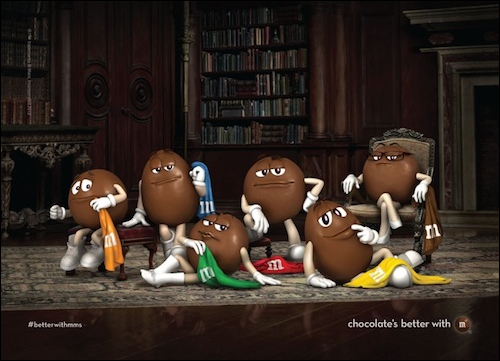 Take this campaign by m&m's. The goal was to instill the idea that m&m's were perfect for every occasion through their "Better With M" campaign—a 13 million dollar endeavor that intends to tell the story of how chocolate covered candies can make every moment in your life better. That's the belief that they want people to buy into, which is only made possible because people are already familiar with m&m's to begin with.
Godin captures the idea of truth ads quite succinctly—"This is advertising that tells a story, advertising about belief, not necessarily action." And while you can want to eventually build credibility for your business, there is no credibility to build if no one even knows what your product is yet.
Then finally, he talks about Demand enhancement ads—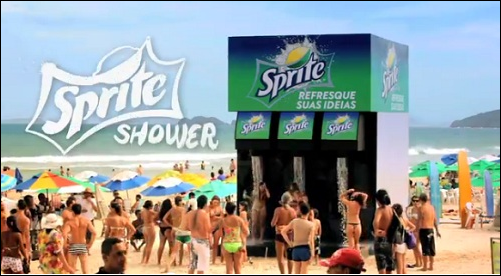 These ones are all about persuasion. I love how Godin puts it: "…ads that remind us that on a hot day, we'd like a cold drink." Case in point—Sprite's out-of-home installation of a soda dispenser/shower right smack in the middle of a sun-drenched beach. So the next time anyone thinks that they need a refreshing drink, this visual and interactive ad can remind them that hey, I think a cold bottle of Sprite would do the trick.
But similar to truth ads, it is hard to measure, usually only works if you already have a recognizable brand or product and can cost a lot of money.
Now, if you're only just starting your business, the most logical step would be to choose a marketing strategy that gives you the most efficient use of the ad dollar and offer immediate results.
Because Seth Godin is right—"Every once in a while, an ad does all three things, but that's a foolish thing to hope for." And when you have limited money, time and resources, your best bet is to put your money where you can be guaranteed results. So my advice is: Avoid doing everything at once—Stop spending all your time and money trying to start massive branding campaigns before your brand is ready for it. As your business grows, so does your budget and you will naturally promote your efforts.
In the meantime, give direct response marketing a try to get yourself started. Unfortunately, like a lot of burgeoning strategies in digital marketing, it tends to suffer from a lack benchmarks for best practices. So here are a few pointers on how you can introduce your brand and get immediate, measurable results—
Be clear about what you want them to do—is it to click on your link to your website? Sign up for your email list? Follow your Facebook page? With this, it literally means asking people, your audience, to do things—telling them exactly what they have to do–but keep it as close to a conversational tone as possible.
Add a benefit oriented headline—you're already asking them to do something for you this early in the game, so what's in it for them?
Keep the process simple. If you're asking them to sign up for something, make sure it doesn't require them to fill up a 5-page application form.
It helps if you emphasize urgency—provide them with a timeline to respond to compel them to act on your call to action.
Be clear what your metrics are. The biggest advantage of direct response marketing is that it is easily tracked and measured.
Let me end this post with my Seriously Simple Marketing hack—


Scan through all your advertising materials, specifically your squeeze pages or your sales pages. Would you say that they're more branding oriented or direct response?
Does it follow the guidelines I mentioned above? If it doesn't, adjust them accordingly.
Try it out for a couple of weeks and track the difference.
– Mercer