Admit it—content marketing can get tedious; especially if you're a solopreneur who has to deal with the back-end and work on creating and publishing content consistently.
Here's a tip—repurpose what you already have; and use SlideShare to do it.
If you already have a collection of previously published articles, take those and follow these tips to get more mileage out of them….
You know how Youtube is a search engine for videos? SlideShare works the same way for slides. And not only is it an easy way to rehash existing content like articles, it's a great way to bring traffic to your site.
Controversy Wins
It's an old advertising trick that still works to this day—if you want to get read, you have to stir up interest. Do this subtly—yes, it can be done—and make sure that because you will likely prompt someone to click on your link by being a little sensational, you have to support it with useful, relevant information.
So if you have your old article, tweak the title a little bit; just enough to grab attention.
Take Mark O'Toole's deck that shares real world advice for fresh graduates.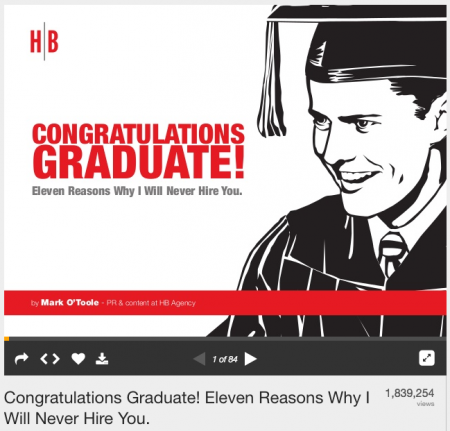 Entitled "Congratulations Graduate! 11 Reasons Why I Will Never Hire You" is an attention grabbing headline that at the very least promises to be a funny run-down of the realities of today's competitive job market.
It has gotten nearly 2 million views—which you can credit to the author's great use of text and visuals as well as storytelling technique. Which leads into our next tip—
Your Story Is Their Story
At least, that's what you want them to believe as they begin reading your slides.
You got them hooked with your title and headline, now it's time to remind them that they're in the right place—that they have to go through the entire thing because your content is useful, needed, relatable.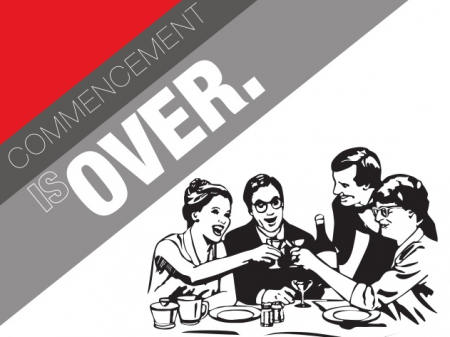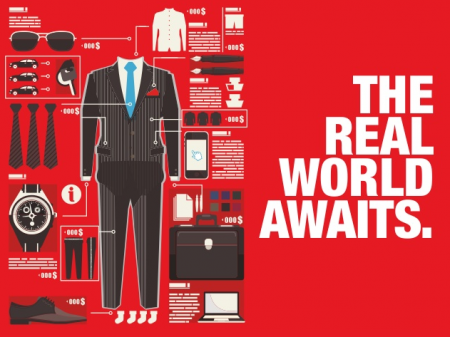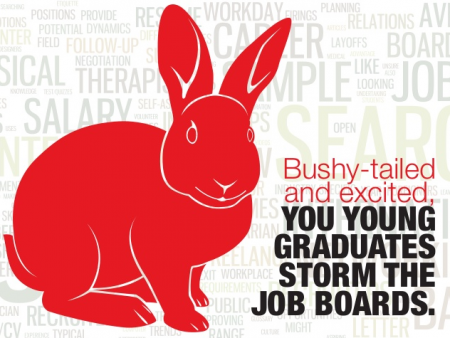 In O'Toole's succeeding slides, he explains where his readers are and where they now want to go—which means his readers, now 3 slides into his presentation—have now established a sort of rapport with the writer, leading them to think that, 'hey, maybe this guy gets where I am, let's see what else he has to say…'
KISS
Keep it simple, stupid. Yes, you've heard it before—but I assure you, it works.
Notice how he does his slides in this text + visual combination that makes it easy for his audience to read (who, by the way, in this case are college graduates with very short attention spans)?
The same rule applies for any other slide you're creating, regardless of who your audience is. SlideShare is a visual tool, so cutting and pasting a wall of text on each slide won't work.
BUT…
Summarizing what you have to say for the sake of brevity or aesthetics won't either. Remember though that when you upload something on SlideShare, you won't be around to explain the text that comes with it. Giving readers a main visual plus a few keywords without context means they won't be able to understand it.
So when it comes to text, the standard rules about creating slides apply here. Keep it short, a sentence or two (three, max); use bullets when you can and use interesting images that are relevant.
Here's a great example—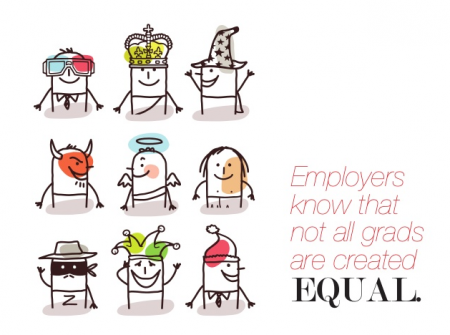 Spell It Out
After you tell your story, you have to be clear about what you want your readers to do.
Do you want them to share it, do you want them to click on a link, do you want them to start a discussion below?
Create a call-to-action to make sure that all your efforts become a lead generating one.
This is a great technique that we use for our SlideShare presentations that leads our audience from SlideShare to our blog.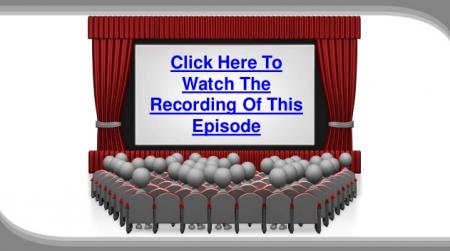 And finally…
It's All In The Details
When everything is in place, your title, your story, your content, your call to action, making sure it can be found on SlideShare requires getting into the details.
When you upload your slides on SlideShare, you will be asked to edit your title (which is why you should make it catchy), write a description and add tags. Fill this up. And when you do, make it concise and keyword rich, like you would a YouTube post.
SlideShare also has an embed code for everything that you upload—so be sure to get that and embed it on your blog or website.
Remember—
Take an old article, tweak the title, adjust content to make it more relatable to your audience, summarize but still make it informative, give a clear call to action and do you due diligence to make sure your content is searchable.
If you have questions, feel free to leave your comments below. I'd be more than happy to answer the. And if you know someone who you think would get a lot of help from this article, be sure to share it.
– Mercer