This week's focus topic for Digital Marketing This Week is all about WordPress Security. So if you've either had a site hacked or even just heard about it, here are some broad strokes and tactical things that you can implement.
There are 5 simple things you can do to keep your WordPress Site Safe and it's summarized in our show notes below.

But be sure to check out our full webinar for a more in-depth discussion and to find out what that one very common thing WordPress users do that makes their site more vulnerable to hackers.
#1 Properly Update
Security updates are very, very important.
There is a setting on your WP Config file that allows you to enable automatic security updates, turn it on (though it's probably already on).
Be sure to back-up.
Know when and when you shouldn't update—for major updates, it's best to wait for a tested version. A month should be OK—just to make sure that there are no major conflicts or issues.
#2 Audit Your Logins
Dump the "admin" username.
Strengthen your passwords by using a mix of caps, lowercase, symbols and number. Make them at least 15 characters long.
Use a password manager to keep track of your passwords. We recommend LastPass.
#3 Hide The Obvious
Adjust your WP login message.
Use lower level users for posts.
Hide standard folders
These can all be adjusted using a plugin
#4 Start At Home
Security starts at the access point—this means your home computer.
Be sure your anti-virus and malware scanners are working. Install Webroot, McAfee and Norton.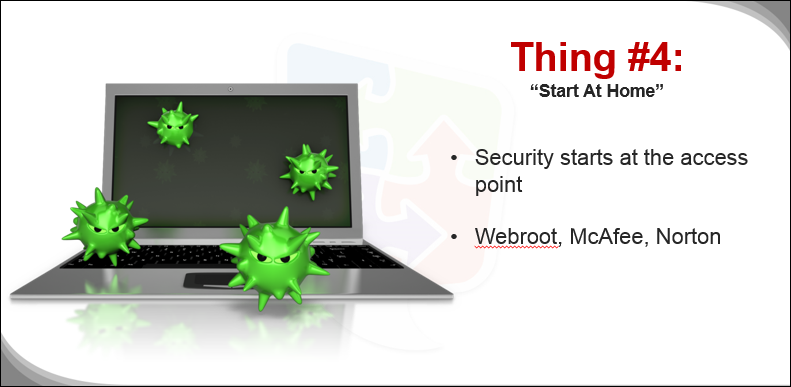 #5 Use A Plugin
There are numerous security plugins that you can use to boost your security—by far the simplest thing you can do keep your WordPress sites safe. We recommend—
Bulletproof Security
All In One WP Security
iThemes Security (the one we are currently using)
To find out what that one thing that almost everybody does that makes your site easier to hack, be sure to check out the entire webinar! We also featured a live demonstration on how you can access the different WordPress security features, clean up your WordPress site for optimum security and install a security plugin.
– Mercer
Have a question?
Get access to the live Digital Marketing This Week webinar, including a chance to get answers to your toughest marketing challenges!  Enter your name and email below:

We value you and your information is kept safe.