It's no secret that Pinterest is still skyrocketing in popularity. This direct response marketers Pinterest strategy will help you take advantage of that trend.  But first, a few interesting facts.
According to TechCrunch, Pinterest is the 2nd Largest Traffic Driver Worldwide in social referrals, and the Pinterest demographic is ripe for making purchases:
More than half of its users are between 25 and 54 years old
64% earn higher than average incomes
87% of users have made a purchase because of a pin.
If you are anything like me and millions of others, you routinely use Pinterest for recipe clipping, car shopping, or vacation ideas. And you may wonder how your not-so-visual direct response or B2B business could use the power of Pinterest.
But, when you think about what Pinterest really is – an image based bookmarking and search engine – you can see that just like all forms of social media, Pinterest gives marketers opportunities to get in front of a very select audience.
The fact is, virtual-based businesses such as info-marketers, business apps & services, and other direct response marketers just like you, are finding ways to use Pinterest to target a more sophisticated and successful audience.
With a Pinterest strategy based on using solid research, simple tracking procedures, and basic Google Analytics reports, you can determine if your images and pins are bringing you as much as or more traffic than other networks.
Your Avatar is On Pinterest
I started using Pinterest a few years ago, along with every other woman my age, to create a virtual collection of recipes, decorating, and gift ideas. Soon it became a place to keep track of books I wanted to read and motivational quotes.
Around May of 2014, I started my first "marketing" board. Now, I have three business boards and all are full of saved images I have collected from other Pinterest users and around the web on typical business subjects such as Keyword research, social media marketing, website design, productivity tools, and more.
Although women have traditionally been the highest percentage of users, according to Fortune, the fastest growing group of Pinterest users are men ages 25 to 40.
Since 35% of Pinterest users are college graduates and 25% make more than $75,0000 per year, you can bet that this audience is using their own Pinterest boards to save information (including your lead magnet) about their industry, niche, or business idea.
How Direct Response Marketers Are Using Pinterest
Just a quick Pinterest search for "business apps", "productivity tools", or "financial services" will show you that Direct Response and B2B marketers are using Pinterest. (My search for "digital marketing" generates a never-ending stream of infographics and other images.)
This pin I found at the top of my search for "business tools" was pinned in January 2015 from a B2B website that sells courses, coaching services, design services, and affiliate products. It links to a landing page full of business and web tools, most of which are affiliate products.
In the time since the business posted the pin above, 731 people have re-pinned it and 165 others have liked it.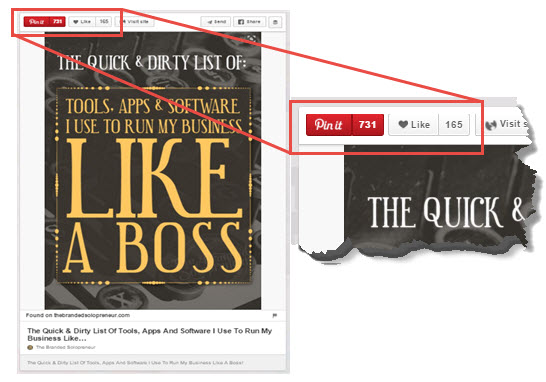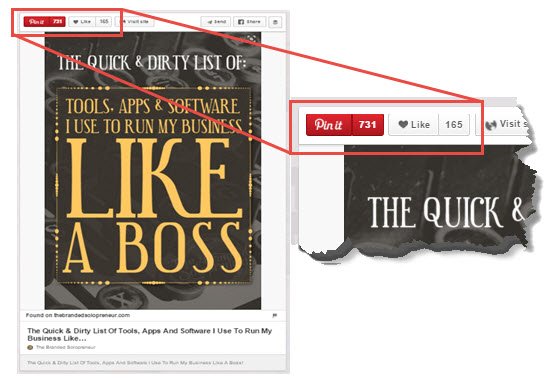 A quick look at the actual page this pin links to show only 12 people have shared the page on Facebook, yet 2,588 have shared it on their own Pinterest boards.

And, this pin was at the very top of my search almost a year after it was originally pinned!
This "virality" of a good pin on Pinterest can go back several "generations" with some businesses seeing pinterest traffic a year or more after pinning. This is one reason a great strategy can make a difference in your long term marketing.
According to this post from WebPageFX…
The half-life of a Pinterest Pin is reportedly 1,680 times that of a Facebook post. 
Direct Response and business services marketers are discovering an interesting image with a good description, and direct calls to action can bring customers to their website even if they don't have the "typical" products or brand.
Want to see similar results in your own business? Start with a Pinterest strategy that incorporates marketing research, tracking, split testing, and optimizing your pins to bring quality traffic to your site.
Your Pinterest Strategy
Just a few hours of learning about Pinterest and conducting research, plus an hour or two a week of image creation, posting, and "networking" can give surprising results.
Step 1: Research
There are several ways to do some quick research of the kinds of pins your users would be interested in.
Pinterest Search
First, try the Pinterest search bar for your product or niche market. You will find tons of images! Click on a few to see what types of images have the most repins, likes, and comments. Take note of where the pin leads (a blog post, an optin form, sales page, etc.).
Search what pins your own site's users are already pinning.
Use this link http://pinterest.com/source/yourwebsite.com/.  (Replace "yourwebsite.com" with your actual website.)  You may be surprised to see that your site has already had some users pinning from it. When I searched for our site SeriouslySimpleMarketing (http://pinterest.com/source/seriouslysimplemarketing.com), I saw different images pinned from the same post by a few different users – coincidentally (or not) many of these pins link to one of our most popular posts called " Traditional vs. Online Marketing"!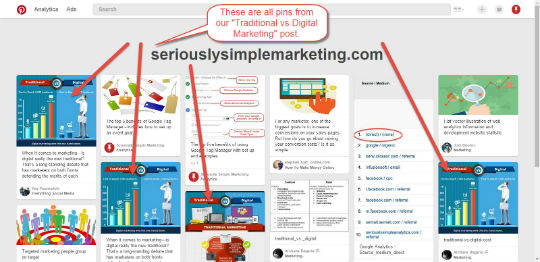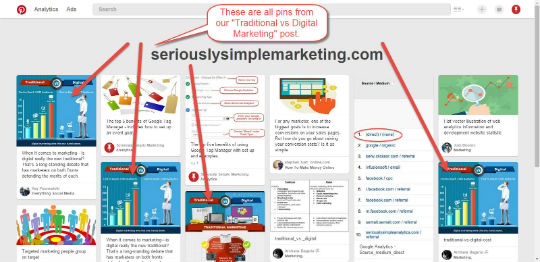 Use the same link to search your competition http://pinterest.com/source/yourcompetition.com
Not only will you see what images are generating interest from their readers, but you can also see the number of re-pins, likes and comments and get an idea of what their (your) demographic looks like, wants and thinks is important.
Step 2: Create Your Business Account
Visit the Pinterest account creation page
Takes 15 seconds!
Read up on the features Pinterest has for businesses including the "Getting Started Guide and Tools" (check out Rich Pins which are helpful for making your pins show up better in search results.)
Set up a few boards to start pinning yours and others' pins to.
Step 3: Create Your Image
With so many different images, the competition may be tough, but with just a bit of creativity and some free image creation tools (think Canva), you can make your image stand out.
Some designs to try include…
Infographics
Charts
Still shots from a video
Your lead magnet (hint: try a blurred image of your lead magnet)
Think creatively about how you want your image to stand out. Use colors and fonts or interesting photos for backgrounds.
Hot Idea to Try
Take what is trending or popular on Pinterest and find a way to spin it for your audience. Think outside the box.
For example – this financial services company used a vacation home to garner interest in their pin – with a direct call to action in the description.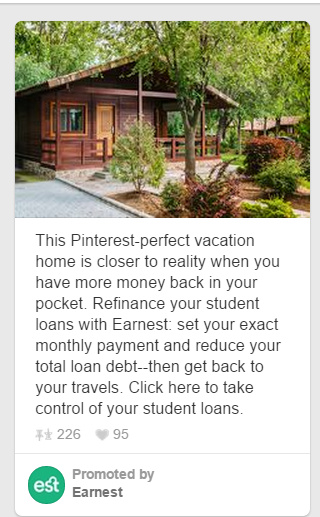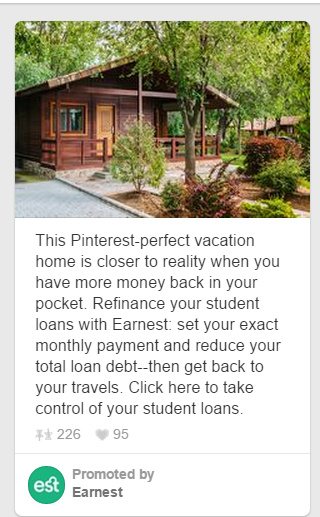 Step 4: Add Your Image to Pinterest
Go to your Pinterest Account and click the plus sign to add a new pin. Add the URL of the page the pin is on to bring up images from that page or add an image from your computer.
Once you have added the image to a board (or create a new board), you can add a description with Call to Action (and any hashtags you want to use to help users find your pin.)
View your pin and click "Edit" to change the description and add a UTM to your URL. Read below to learn more about using UTM Codes with your pins to track your traffic.

Step 5: Use Pinterest and Google Analytics to Track, Test, and Optimize
Although Pinterest provides business users with Analytic's details such as # of re-pins, shares, and click through rates, they only tell you half of the story. By using Google Analytics AND your Pinterest analytics, you can find the real data you need to make better marketing decisions.
IMPORTANT – Be sure to use UTM Codes to track your pins.
Recently, Pinterest has listened to marketers and given its business account users the ability to add "UTM" codes to their pins so marketers can track their pins in Google Analytics.
UTM Setup Example:
Source: pinterest
Medium: share
Term: (we normally put the headline here)
Content: Specific to each pin (yellow infographic, puppy photo, yoda quote)
Campaign: (we normally put the product or service here)
Track Your Results with Google Analytics
Use Google Analytics "Source/Medium" Reports, goals, and segments to see how much traffic Pinterest is sending to your site as well as what that traffic is doing once it gets there.
These reports will show you how the people who clicked on your link, image, or ad traveled through your site – what pages they read, what forms they filled out, and what products they bought.
Need a little help with how to use Google Analytics reports?  Sign up for our free Workshop Wednesday Webinars (you'll see the form on the upper right of this page).
INSIGHTS – Use UTM's to Split Test and Optimize
Once you have figured out the basics of using your UTM's and Google Analytics to track your pins, you can start to have fun with all the information you can learn!
See what types of images bring you the most traffic. Split test which image styles, sizes, and Calls to Action bring you subscribers or buyers.
Track users through your funnels and see where they drop off.
See which pins become viral and bring you steady traffic, versus which pins bring you "instant" traffic.
Take your learnings to other networks – once you see the trends of what types of images are getting re-pinned and bringing you traffic, you can determine what types of content your demographic is looking for.
In Summary….
It is important to remember that Pinterest is a long term strategy that should be used in conjunction with other networks to bring traffic back to your site. Have a plan for where you want your pins to lead and what actions you want your users to take.
Your analytics trends will show you within a few months if your strategy is working to bring quality leads to your site, and determine if the time investment is worth it. If not, you will still have learned quite a bit about your marketing, your users, and tracking additional sources of traffic.
Remember, like any form of social media, Pinterest is about relationship building. Look for pins that interest you, and that will interest your followers. Create boards, share pins, and join group boards. Track your traffic and see if your efforts are paying off.
Good luck, and happy pinning! Be sure and post a comment or question, and I will be glad to help you.
– Jodi