Have your heard of the phrase, native advertising?
Like most things in this industry, it's not really new. It's a long-standing advertising concept that, prior to the digital age, was most known as an advertorial. You can read more all about the basics of native advertising here—Sharethrough, a software company that specializes in native ad placements for brands and publishers, does a really good job of illustrating and explaining the entire process.
If you're already familiar with it, then you might have also noticed that along with the buzz that surrounds native advertising, it came a slew of polarizing opinions. Fans love the cleverness and creativity that goes into it. Some don't even notice that its sponsored content. Others find it intrusive and somewhat deceptive.
So, as a marketer, is it something that you should try?
Well, I think it's certainly worth looking into.
Let's start with what's great about it—
Ads, by nature, are obtrusive. The best ones are witty, entertaining, clever—but also, for all intents and purposes, interrupt the viewing, listening, or reading experience. That's why native advertising is so great because it's meant to seamlessly integrate into whatever medium it is using.
Of course, this seamless integration is only possible if the ad was done well. As a benchmark, take your cue from Buzzfeed whose examples of native ads have earned a nod of approval from marketing professionals and interest from their general audience.
Here, they've partnered with alcohol brand, Captain Morgan, as a way to increase brand awareness that hopefully will translate to higher revenues.
The brand managed to tie their product into interesting content that is native to Buzzfeed—it's featured in list form, with large visuals and engaging copy.
In the interest of transparency, Buzzfeed always makes it a point to prominently note that the content was brought to audiences via a content partner.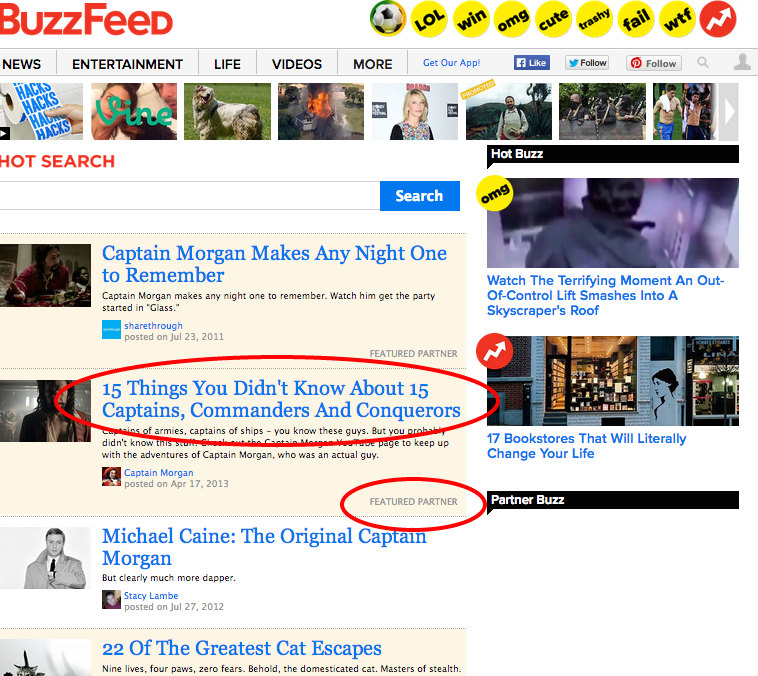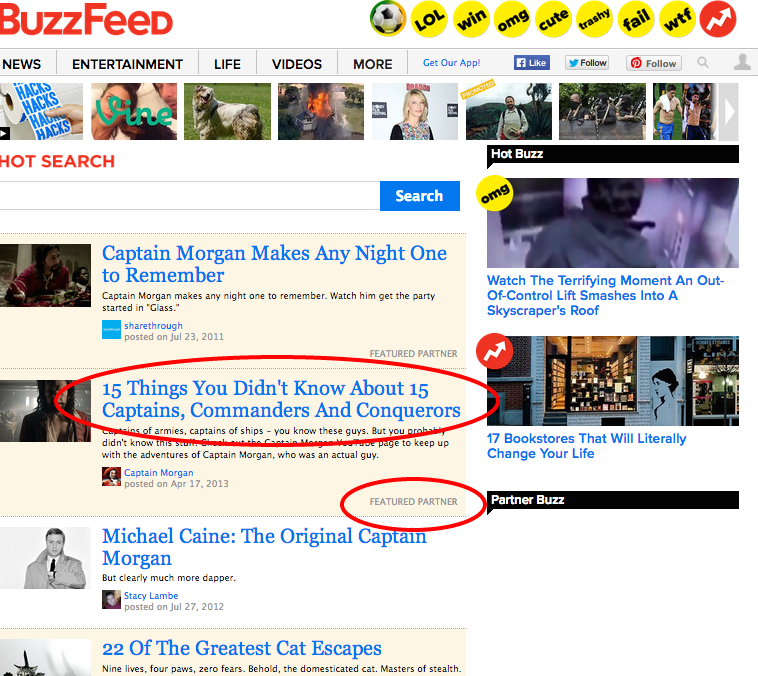 The intent is to pique the interest of an already engaged audience and direct it towards their brand—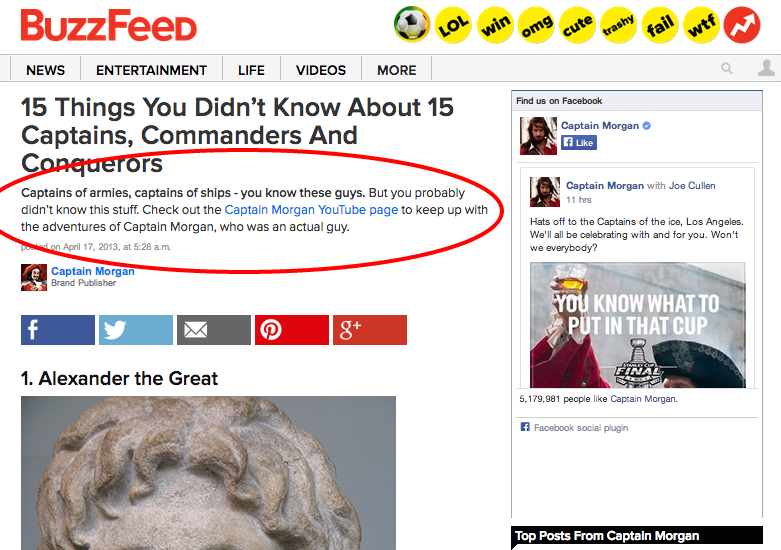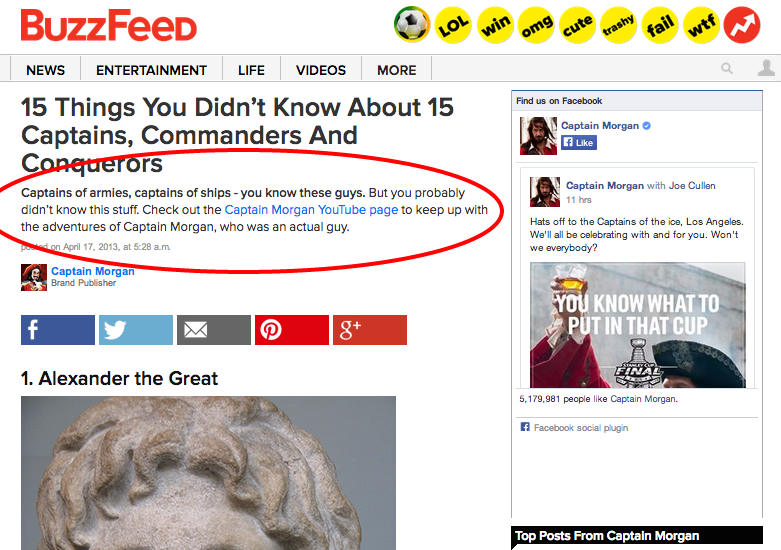 –see how their sub-copy also engages readers to keep on reading but also has a succinct call to action that directs them towards the brand itself? They did this without disrupting the standard user experience of a Buzzfeed reader. And with native advertising, that is the goal: to protect the entire user experience.
You can view the entire post here.
And now for the bad—
The whole concept of native ads (particularly on a digital platform) is still relatively new. This means there aren't really standards or best practice benchmarks that we can peg our campaigns on. We have a few guidelines set up, such as making sure publications or blogs overtly disclose the fact that they are sponsored posts, but that's about it.
Native ads blur the line between advertising and content, which is why the strategy is drawing a lot of ire from critics and detractors.
Perhaps the best example for how not to do native advertising is best illustrated in The Atlantic's 2013 sponsored ad for the Church of Scientology.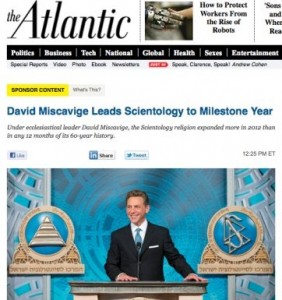 Image credit
It seemed simple enough. The Atlantic is a magazine that partnered with the organization, following the publication's native format—articles. Despite following the basic native ad guideline and prominently informing audiences that it was sponsored content, it generated so much negative attention that the publication eventually had to take it down. This was quickly followed by an apology.
Why, though?
The Atlantic had a good reputation of being a literary and commentary magazine. Yet they published an ad that almost felt like propaganda.
There was no inherent value for The Atlantic's audience. The tone of the copy was almost self-congratulatory.
There was an obvious disconnect between the publisher and the advertiser—something that the audiences could easily discern.
If you want to read more about it, CNN wrote about it back in 2013.
The fact is, native advertising is a lot more work—
It requires a seamless match between platform and advertising—something that tends to get overlooked…a lot.
Content has to be specific and perfectly tailored to match the native platform.
It will require more creative work.
Right now, there is the ever-looming risk of backlash and questions about ethics and where to draw the line between paid ads and organic content.
Despite these, I believe you'll definitely be seeing a lot more of it in the coming years. And with careful assessment of its value against its risks, you might just realize there's a lot more it can offer for your brand.



Use your social networks to dip your toe into native advertising.
Log in to your Facebook or Twitter account.
Create a post or a tweet where you call to action is to drive your audience to your blog or website. Make sure that you are using engaging copy and remember that the content has to be related to your brand or business.
– Mercer