For anything and everything that you need, search engines, like Google, have the answer. They know what answers to give, by recommending the right site. Google knows the "right site" by choosing the URL that has the "right keywords."  Which is why keyword research so important.
So we thought we'd share the same process we do here at Seriously Simple Marketing, using our blog posts as an example.
What and Who
Start with your topic and remember to keep it very specific. So for example, if you run an online marketing company and want to talk about marketing, using "Marketing" as your keyword phrase is too general. There are literally millions of pages that talk about marketing and there's no way you can rank for it (at least not until you've been around for a while); so you have to be very specific.
To do that, think of the following…
What about the main topic do you want to tackle?
Who do you want to read it?
Where does your desired audience live?  (Does it even matter?)
Once you've considered these questions, your keyword phrase might now be something like:
"internet marketing company in Texas"
Wild Cards
Once you've settled on a particular topic phrase, it's time to test it out.
We begin by typing a search query in Google, where Google will typically offer suggestions to complete the phrase.
If our topic phrase was: internet marketing company in Texas

This gives you a better idea of the content that is available on Google and different subjects that are frequently being searched in relation to your keywords.
Be sure to check out the bottom of the page as well where you will find searches that are related to the topic you are looking for.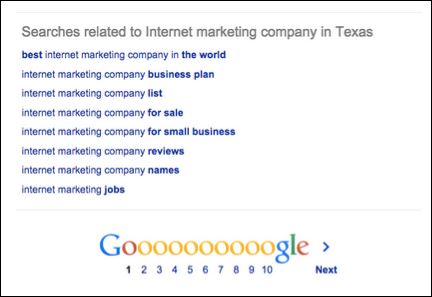 Nitty Gritty
Given that you know your topic is something that people actually search for, it might be worth digging into it further by using Google Keyword Planner.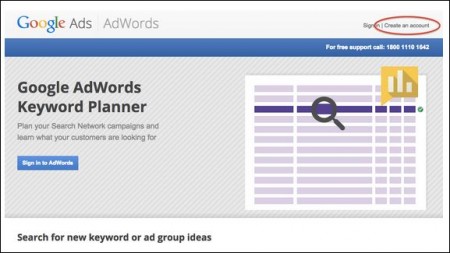 To access the features, you will need to create an account and sign in. All you have to do is login your Gmail username and password and you will be taken to this page.
Click on "search for new keyword and ad group ideas" and type in your keyphrase.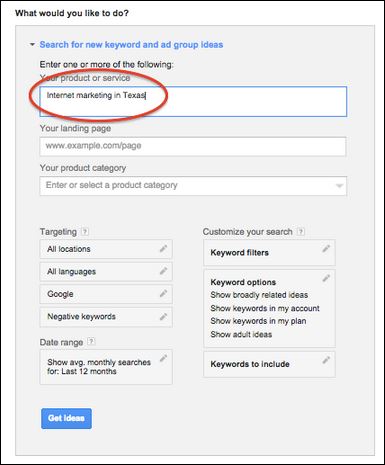 Once you do, you will be given multiple keyphrase options based on what you typed.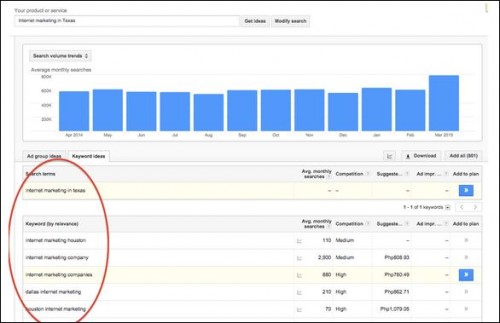 Now, the obvious choice would be to go for the keywords that have the highest monthly searches. In this case, it would be "Internet marketing company." BUT, this also means that you'll have more competition–other people basically have the same idea as you and you'll have to beat them as you clamor for the top spot on search hits.
So here's a tip–go for the more niche searches, such as the "Dallas internet marketing", which gets 210 average searches or "internet marketing houston" which gets 110 average searches.
Why?
Those 2000 searches have to be divided between you and the rest of the content creators who have targeted the same keyphrase, which will ultiamtely leave you with a handful of readers finding your site.
On the other hand, if you target the niche topics, where competition is low, you have a better chance of capturing those numbers, basically getting a bigger piece of a smaller pie. And when you do this for ALL your posts throughout the course of, say, a year, you can end up with thousands of visitors a month just from a targeted keyword/phrase search.
End Result
Having done your keyword research, and seeing that "internet marketing houston" gets a significant amount of searches, your title might now be–
"Beginners Guide to Internet Marketing in Houston"
Remember:
Use the keyphrase in your title and your first paragraph.
Don't stuff your entire content with the same keyword/phrase over and over.
Mention the keyphrase at least once throughout the body copy and again in the final paragraph.
Make sure the entire post reads well and is grammatically correct.
That's it!
If you have any questions, be sure to leave me a note in the comment section below! And if you know someone who needs to improve their keyword research process, be sure to share this article with them.
Thanks!
– Mercer