Could email (as you know it) be over?
There's a different way to access your email.  It's called Gmail Inbox (different from regular Gmail)–it's currently accessible via invitation only and, according to Google (or many people who has had the opportunity to download the app), it's a smarter, newer way to manage your email; a different form of the Gmail we all know and love.
To be clear, Inbox doesn't replace Gmail. It's an app that you can download separately. This means that you can download Inbox on iOS, Android, and Google Chrome compatible devices as an app that will intelligently manage your Gmail.
Here are my thoughts on it, so far–
Design
Design-wise, Inbox revamps the interface to make it easier for you to view the contents, not just of your Inbox but of the actual email itself.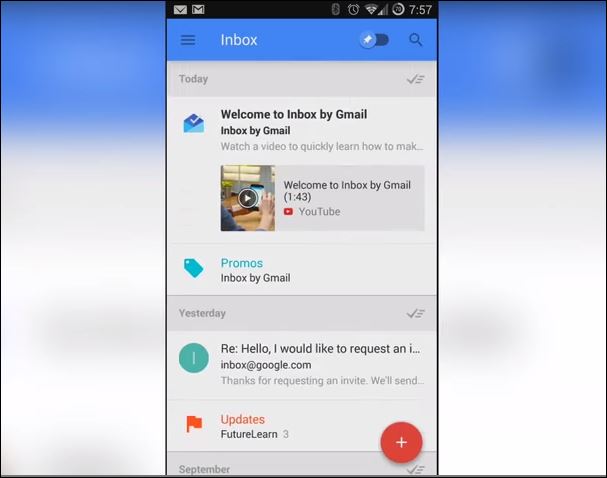 Instead of just a subject line, each message offers more information per section. This includes information the Google considers important from that particular message–maybe addresses or phone numbers, tracking codes or attachments.
Image credit:
Features
And then there is this new feature that Google calls "Bundles", which takes Gmail's Tabs concept to a better, more efficient level. This means that Google is essentially "bundling" the emails you receive into specific segments automatically.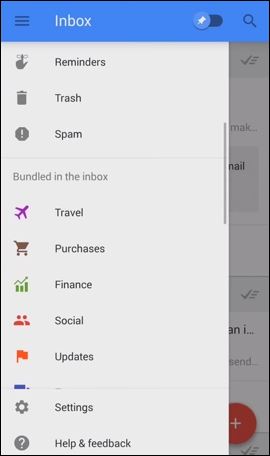 Image credit: 
So not only are your emails easier to read and browse through, they're now automatically sorted according to their respective segments. They're also easily customizable depending on what kind of bundles you need.
Concerns For Email Marketers
Now, these features, while convenient for personal users, presents a major drawback for email marketers:
Inbox basically adds more clicks between your email and the person who opens it.
Because promotional emails are now automatically organized in one place, it's easier to just delete everything in one go, especially if your users think it's unnecessary.
This could be a challenge for email marketers that are "all pitch"—meaning you have to make the extra effort to have your content more useful and relevant for your users. Your goal is to have your email expected, wanted, desired, relevant–all thing factors that go into making sure what you have to say is valuable to the recipient.
My Thoughts
As a personal user, I actually found the app easy to use. It's a very efficient re-think of how people use their email. But as a marketer, it does pose a few challenges. I'm anticipating the need for better crafted content, maybe look into how you can incentivize your promotional email by giving discounts, free reports or consultation, even customized information and other ways in which you can compel your users to actually click and open your emails.
Try it out Inbox now by requesting your free invite for Inbox by Gmail here.  You'll need a valid Gmail address, and don't worry… this won't replace your original gmail, it just opens up a new way of accessing it.  If you decide Inbox isn't for you, you can always just use the regular Gmail interface.
It may take a while for you to get access to the app, but once you do, feel free to post what you think on the comment section below.
Be sure to share this post and give everyone a heads up about what could be a game changer in the world of email marketing.
Oh, and if you've already gotten your invite, would you mind leaving a comment below and letting me know your thoughts?
Also, if you found this post helpful, please let me know with a share, like, plus or tweet!
– Mercer