It wasn't so long ago when we could barely be pried away from our  desktop computers. Yet here we are, with our smartphones in one hand and our tablets in another.  In fact, there are predictions that say mobile is set to takeover desktop Internet usage by the end of 2014.
Do you agree?
Let's take a look at the facts:
All things considered? I'd say YES! —mobile does look like it has the potential to overtake desktop. Chalk it up to the rise of portable devices that can easily access an Internet connection and data plans that are getting more and more reliable every year.
So… should you now abandon your original digital marketing campaign and focus on this new and fast-rising medium?
No, you shouldn't!
But you should definitely make an effort to start to "think mobile" where you can.
For all its promise, mobile (whether it's a tablet or a smartphone) is still dependent on what you're using it for. For instance, you wouldn't really think of typing up your entire thesis on an iPhone; in the same way that you wouldn't go searching for a desktop computer just to check your Instagram when you can do it from your phone.
Nevertheless, from a marketing standpoint, there are huge opportunities on mobile that you just can't afford to miss. Here are a few that you can try for your own business—
In case you're not familiar with the phrase "responsive website theme", it means the website automatically adjust to the screen size. It also means you don't need to create a separate mobile site.m
When you started your web marketing efforts, your first step was to build your website. You probably also already chose a theme that's likely already equipped to be responsive so that it can seamlessly transition from desktop to phone screens.
But just in case it isn't yet, you should make sure that your site is mobile-friendly. This means it should employ responsive technology where your website can change like this —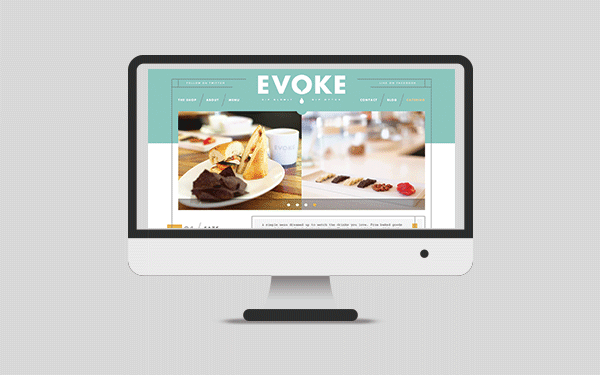 Café Evoke is an example of how you can tailor fit not only the viewing experience but the content of each website as well. Notice how on their desktop page, the site features images, different links, and essential information about their brand; while their mobile page kept it simple with crucial information that most mobile users seek.
This speaks of the brand's understanding of what the different users need depending on what device they are using, and this brand has managed to execute it perfectly.
Consider consumers and not just the device
You might be thinking, "…Just when I finally get the hang of online marketing, here comes another new platform that I have to learn…"
While that's true, it's really just about understanding your consumers and how they're using it. Consider that:
Half of local searches are done on mobile devices.
Over 80% of mobile Internet users use their devices while watching TV.
Nearly 100% of mobile users use it to connect to their social networking sites.
Reference: Smart Insights
Yes, mobile marketing is essentially a completely new animal; the point is, you can introduce something via mobile that will make your brand stand out and still cater to your customer's usage habits.
Take Heineken for instance. The global beer brand's mobile marketing effort is a great example of how to place their brand in the hands of billions of potential users.
The goal was to create a mobile app built by the brand and make it compelling for the users to download. How did they do it? They created a mobile game that allowed fans of the UEFA Champion League (which they were sponsoring) to interact with the actual game, happening in real time, as it was being televised. All fans had to do was download the app, install it on their mobiles, play the game by anticipating goals and fouls on the app that recorded their predictions and if they guessed it correctly, they could earn points and get Heineken prizes.
Use social media wisely on mobile
Studies have already pointed out just how much Americans spend time on online. On the average:
You may know by now just how important social media is to your entire online marketing campaign, but on mobile, expect more eyes to be on it.
Here are some examples of brands that are doing it right by taking advantage of opportunities for mobile interaction via social networks—
Taco Bell uses celebrity power on Twitter to tap into their expansive reach by letting them tweet about brand when they're sponsoring a particular event.

McDonald's has been known to engage consumers via Twitter and give away prizes as a way to incentivize interaction with its followers.
Dunkin' Donuts uses Twitter as a platform to provide customer service.
Oreo uses Twitter to define its personality by posting funny one-liners.

Red Bull taps into its inherent brand value and combines it with exceptional images and clever copy that captures the attention of their followers on Facebook.

These mobile marketing efforts may have massive marketing budget backing them, but it is entirely possible to scale it down depending on how it will fit to your business. Let me help you get things started with this

Take your smartphone and type in your website's address.
Note the following as it loads:

How long does it take to load the entire page?
Does the entire page load properly on a small screen, both horizontally and vertically?
Is the text still readable on a mobile phone or tablet?
Can you still easily navigate through the pages of your website?

Check if there's any part of your website that isn't loading properly on a smaller device. If you have WordPress site, you might want to consider shifting to responsive theme that will automatically adjust your website depending on the device you are using to view the site. I highly suggest that you visit ThemeForest, search for "responsive themes", and explore your options.
-Mercer
Don't worry, this post is optimized to for both desktop and mobile 🙂