In this review, I'll cover a heatmapping tool called Crazy Egg. Along with Google Analytics and split-testing tools like Visual Website Optimizer, Crazy Egg should be a part of every marketer's toolbox. Here's why…
Marketing isn't about putting up a page and crossing your fingers…hoping that it will work. True marketers put up a page and measure for what works and what doesn't. Then, based on that feedback, they adjust and test again… and again… until they get the page converting.
But how can you tell what's working?
One way is by using heatmaps. That's where Crazy Egg comes in.
[03/10/15 UPDATE: Crazy Egg now offers readers of SeriouslySimpleMarketing an extended 90-day free trial!]
What is Crazy Egg?
Crazy Egg basically tracks how your visitors interact with your site. It uses mouse-tracking technology so you can get a visual representation of:
Which parts of your page your users click on the most.
Where your visitors came from
Which elements of your page the visitors are most reading and interacting with
What parts of your page is being completely ignored
It's like getting an x-ray of what's happening on your website!
Here's a breakdown of some of the highlights…
Usability
★★★★★
I have yet to see a plug-in, software, or script that claimed to be a jack-of-all-trades and was great at each of them. I'm from the "focus on one thing and do it well" school of thought. That's one of the things I love about Crazy Egg.
They focus on heatmapping and heatmapping alone—and because of that, I think they do a better job than others.
Crazy Egg offers four different views:
1) Heatmap View – This is where you can get a visual of where people are clicking on your website. Areas that get most clicks are referred to as "hotspots" and are shown in red. Using this feature, I was able to find popular areas on my pages that I honestly wouldn't have been able to focus on or optimize if I didn't have this data.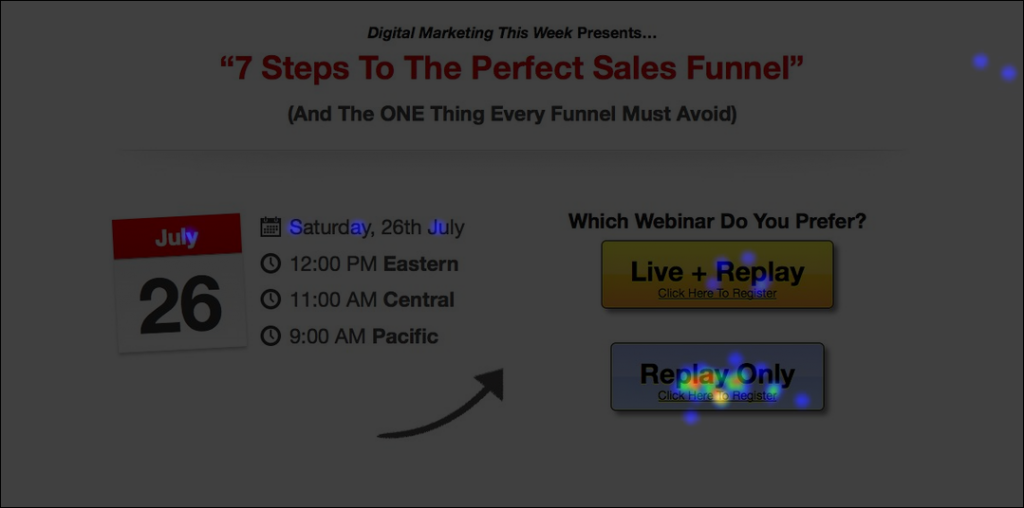 2) Scrollmap View – This is my favorite and the one I use the most. Scrollmaps show where visitors are spending their time on the page. The more time they are spending on a particular section, the more likely it is that they are interacting with that section.
For example, if you are analyzing a scrollmap for a long-form copy sales page, you can see which parts of the copy people are spending time with and which parts they just completely skip.
Lighter colors indicate that your audience viewed a particular section longer.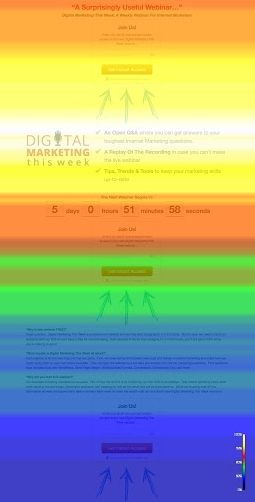 3) There are a couple of other views (Confetti and Overlay), and I  occasionally use these to gain additional insight into where visitors are coming from, but most of the value of Crazy Egg is definitely in the heatmaps and scrollmaps.
Ease of use
★★★★★
Crazy Egg is really simple to use. It takes a couple minutes to set up, following a basic 3-step process that starts with signing up for an extended 90-day free trial. Once you have everything ready, you can proceed to:
Log in to your account. Click on "add new snapshot", then enter the URL of the page that you want Crazy Egg to start tracking.
Set the number of visitors that you would like to record to generate the code.
Add your tracking code! (They have a WordPress plugin that makes this REALLY simple.)
Support
★
This is one area that Crazy Egg can definitely improve on. The good news is that it's so simple to use that I've not had to contact them very often. When I did, it was over email (but they do offer a phone number). The responses have always been pretty generic and not really that helpful. We just ended up figuring stuff out in the end. Personally, I'd love a "live chat" option for support. That way, we don't have to wait so long for answers and can ask quick questions. In defense of Crazy Egg, I want to reiterate that we really haven't needed support all that often because, in the hundreds and hundreds of heatmaps we've setup, there have only been about 3 we had issues with (and they all ended up being an error in the setup on our end).
Value for Money
★★★★★
For as little as $9 a month, you can get some pretty powerful views of what's happening on your pages — if that isn't value for money, I don't know what is!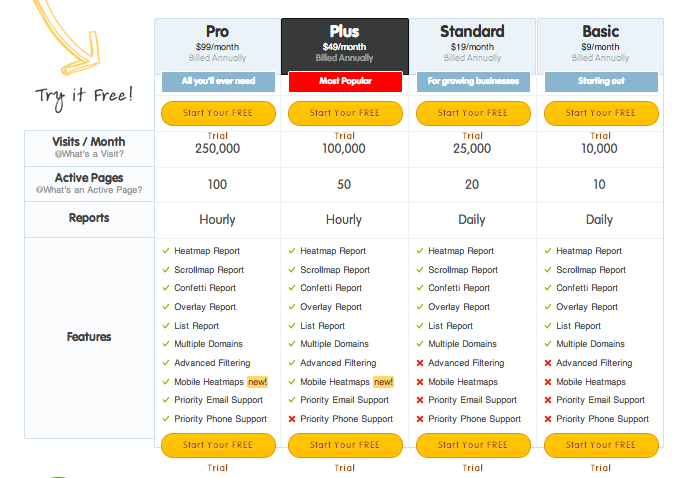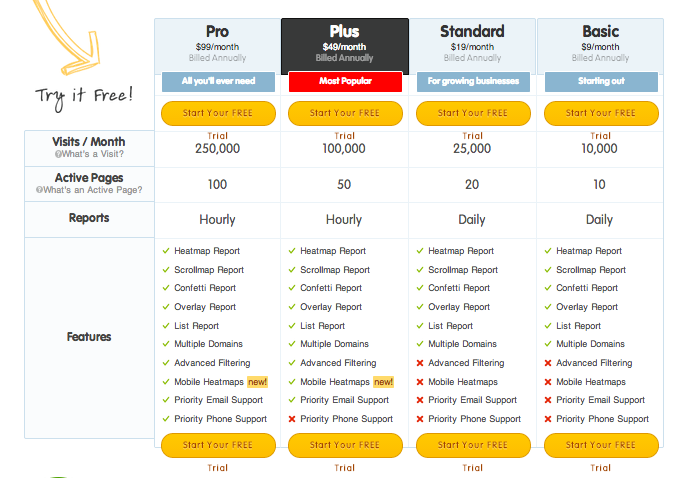 Impact
★★★★★
By itself, Crazy Egg is a tool that can tell you—
Where to focus your optimization
How to position important elements on your page
Which areas on your page are getting the most clicks


Combined with other marketing essentials such as VWO, you'll have all you need to improve conversions.
Try it out and see. Once you've familiarized yourself with how much it can do, you'll be using it forever.
– Mercer