You have to hand it to self-taught geeks—when they recognize a need, they're right there ready to do something about it.
That's exactly what Lynda Weidman did; and her brainchild, Lynda.com is a testament to the kind of ingenuity that prompted the growth of an online empire.
Her site is now recognized as the go-to resource for well-made, how-to videos across different topics—everything from learning the basics of Photoshop to understanding how to work with CSS. It features thousands of courses, adding an average of 400 every year and has somewhere around 2 million members.
I'm one of those 2 million.
I've been running a year-long subscription to the site and thought that this would be a good time to give my two-cents on this great online resource!
Usability
★★★★
Lynda's homepage is pretty straightforward.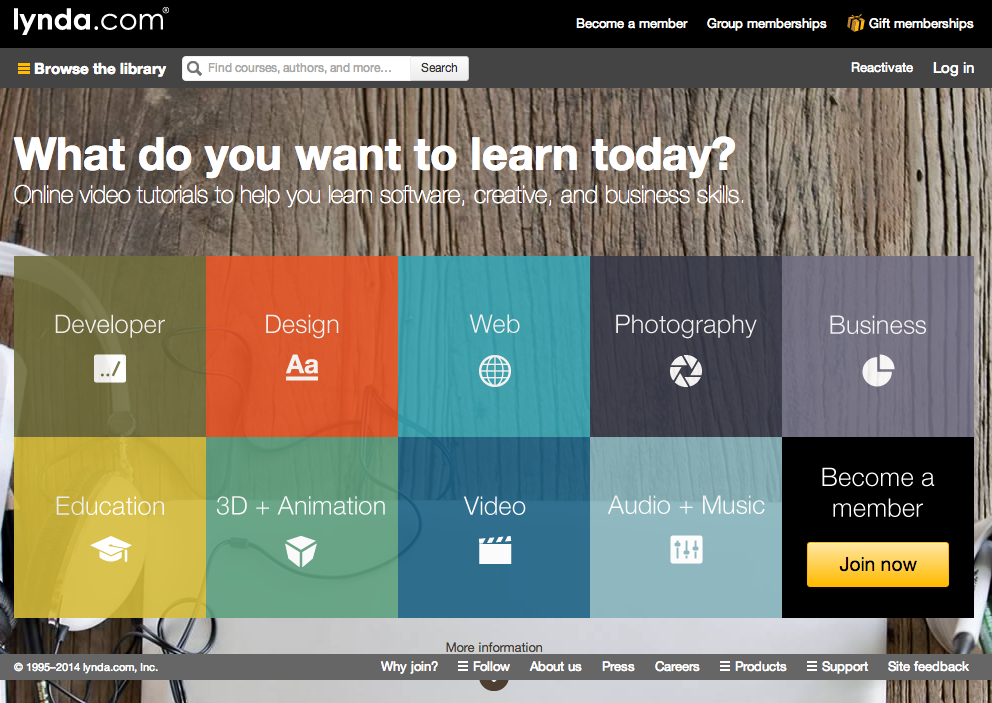 Right off the bat, you are presented with all the different subjects that their online tutorials cover. If the categories don't cover what you're looking for, you can easily go on the search bar and look for what you need.
It's pretty easy to navigate through the site as well. When you log in, you're directed to a page where you can easily bookmark your different courses. Lynda calls this collection your Playlist.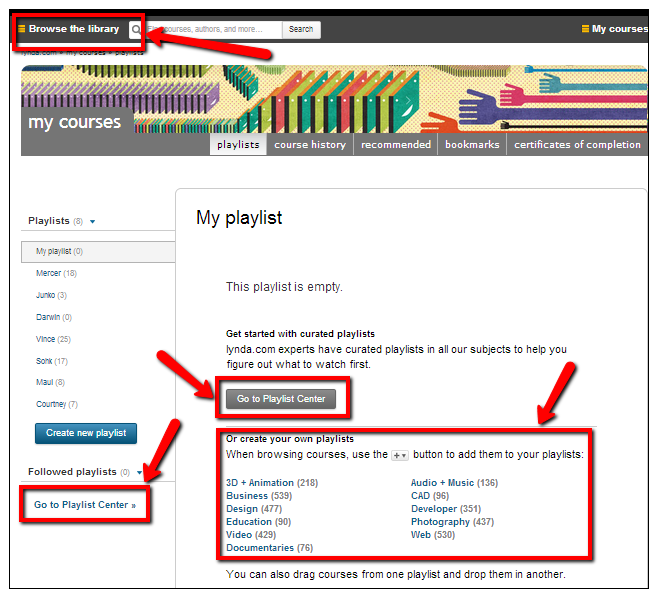 To choose what courses you want to see, simply click on the left hand corner to browse through the library.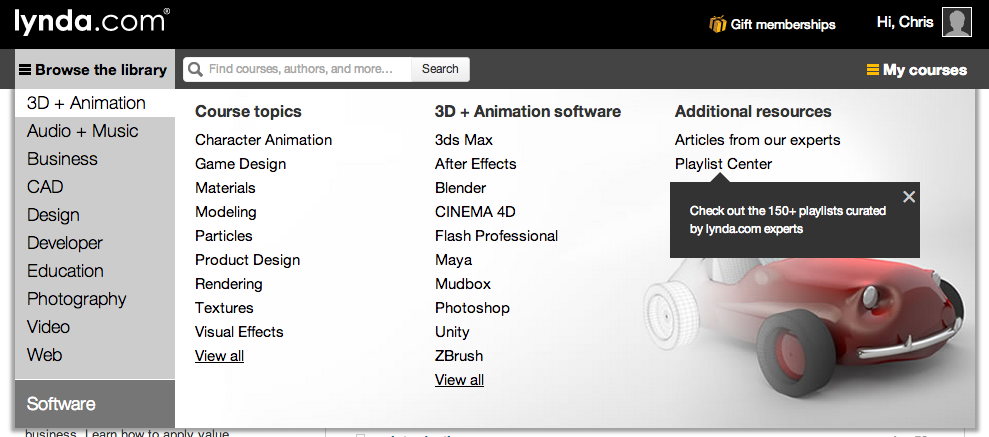 My only complaint was a little speed issue when it came to loading the video tutorials. But recent updates to the site already sorted that out. The entire site is pretty simple and easy to navigate; and they're pretty responsive to suggestions their members have over usability issues.
Value for Money
★★★★★
Given the volume of topics, the quality of the videos, and the access that you have to all these expertly taught video tutorials, I'd give this a five out of five.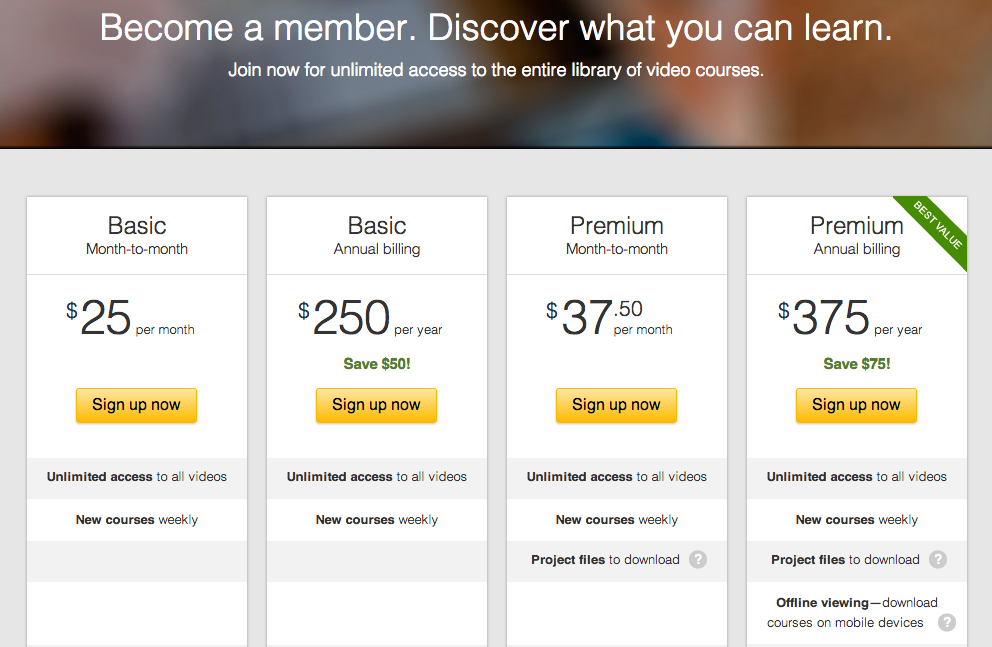 The most basic membership package comes in at an affordable $25 a month. But for an extra $12.50, the Premium membership offers more value because you then get access to their clever Project File feature. This means that you can download the actual files they used for the tutorials and can then follow along — a very helpful tool.
Quality of Courses
★★★★
Lynda.com offers some really great tutorials and overall, the courses tend to be really high quality from a recording prospective. The only reason it's 4 stars is because some of the courses are too general to be useful. Those are in the minority, however, and for every course that was too basic (in my opinion), there were 10 others that were really, really good.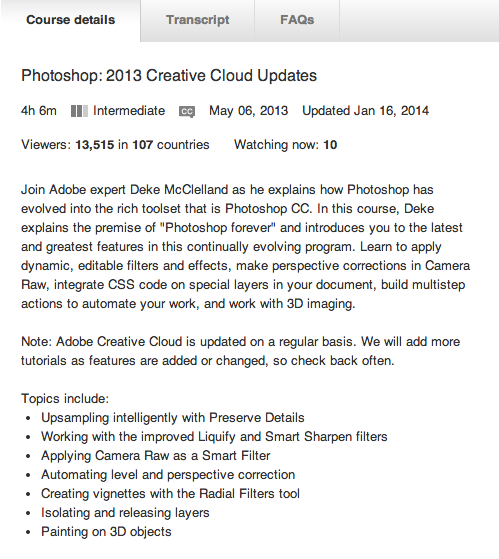 The above screenshot shows an overview of a Photoshop course and gives you a brief snapshot of how in-depth their courses go. It's not simply a brief discussion to cover the basics–they actually go into the different features–from filters to using layers, color levels to creating vignettes (just to name a few)–and how you can apply it to your artwork. For easy reference, they also make it a point to provide a copy of the transcript of the course.
Diversity of Courses
★★★★★
Definitely a five! For marketers who are just starting out and happen to find themselves taking on the task of managing every aspect of running the business and taking it online, Lynda.com proves to be an invaluable resource.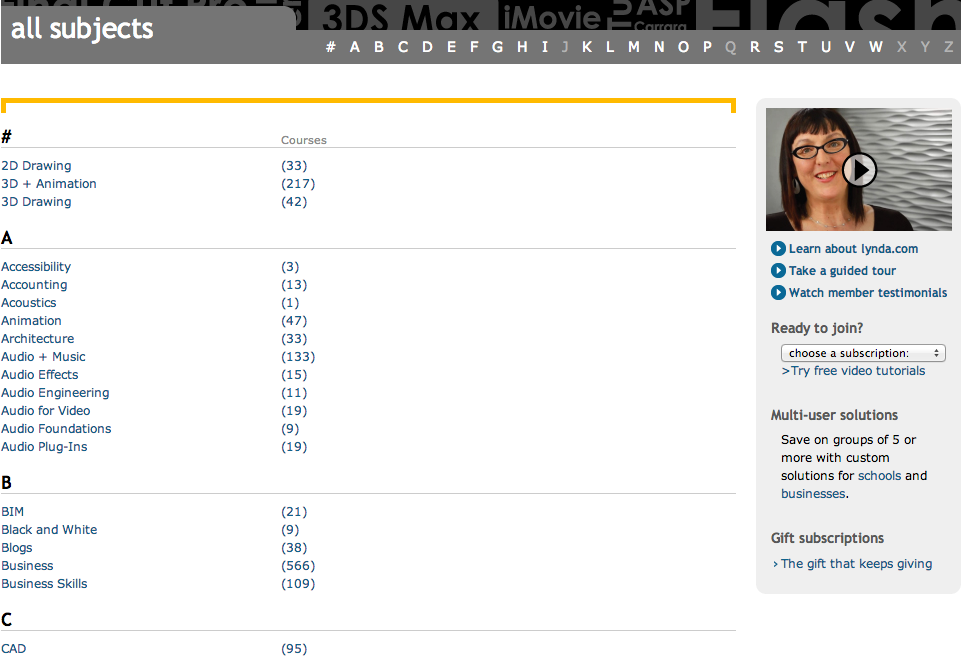 Support
★★★
In terms of technical support for using and getting around Lynda.com itself, you're all sorted.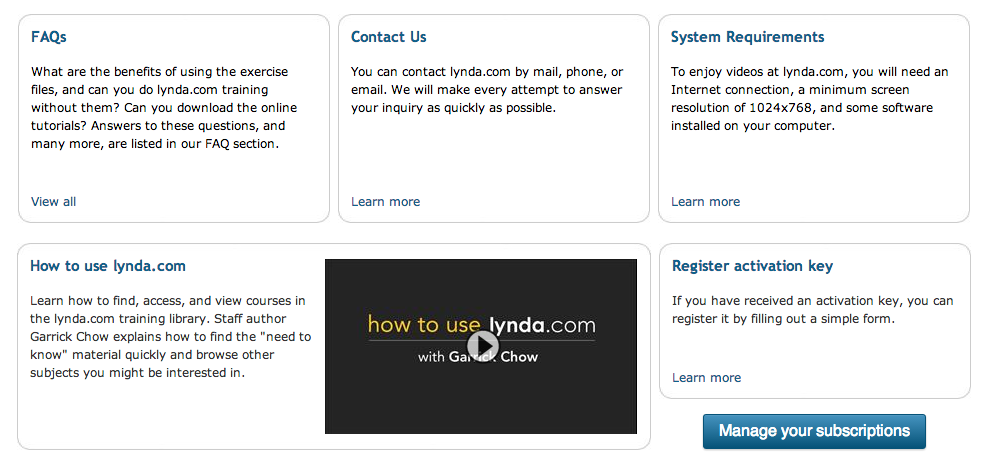 The site has email and telephone support to attend to all your concerns. Although to be honest, I've never really had reason to get in touch with them in terms of problems with the site itself.
What I find lacking is support for the actual courses and subject matter itself. So, let's say you're trying to learn the basics of Photoshop and you have a question about how to calibrate the right colors on your computer screen, you don't really have anyone to ask. To be fair, I'm not sure how they could ever really offer that, but hypothetically, it would be a nice feature to have.

Summary
All in all? I think signing up for a full year of membership is a great way to get all the resources you need to run your business. (I subscribe to the premium version myself!) Lynda.com has everything from Adobe basics to comprehensive CSS programs and having that at your fingertips for as little as $25 a month is a great deal.
– Mercer