If you asked me in 2013 to give an in-depth review of what I thought of OptimizePress 2.0, I would've said— don't get it. It's clunky, buggy, and difficult to use. (Actually, that's exactly what I did say when it first came out.)
And yet here I am, a year after it has been released, about to tell you how much I love it!
Here's the deal. Basically, a few months after they launched, they managed to work out the kinks and built it into something that is now a staple in every digital marketer's arsenal. And that is a testament to how well this theme listens and responds to what their customers want and need.
I've been using OptimizePress 2.0 since 2013 and after going through the spectrum of emotions on this particular theme throughout the course of a year, I believe this is the best time to give you an objective and in-depth review of what it has to offer.
Ease of Use
★★★★
I'm taking a point off only because navigating through OptmizePress 2.0's myriad of features requires a learning curve. Once you get past this  however, you'll realize that it's a lot easier to use than other themes.
Drag and drop builder – Who doesn't love the simplicity of a drag and drop interface? This particular feature bypasses the WordPress editor offering a totally different user experience.
Built-in templates – This particular tool can help you build everything from home pages to opt-in pages. Selections are available for easy customization, simple to navigate and apply.
Liv e Editor feature – This is a huge step in terms of letting people actually see and visualize what they are working on. Any chances that you make in terms of design or content can now be easily viewed as you edit.
Rows and elements – OptmizePress has two basic building blocks. Rows & Elements. You basically build your pages with as many rows as you like and then place the particular elements you want in those rows (hint: the video on this post is much better at describing this). All you have to do is to drag and drop it according to preference. I do think that it would help add to the theme's ease of use if we could also resize column widths without adjusting CSS, but otherwise, this is one of the best features of the theme.
Flexibility
★★★★★
This gets full five stars! Few themes can give you the customizable features and flexibility that OptimizePress 2.0 can. In fact, I'd go as far as to say that its customization options are almost limitless. Here are a few examples:
Customizable templates – This is one of my biggest considerations when choosing a theme and I always end up asking myself, "How flexible will this be?"  This isn't the case for OptimizePress 2.0.  Headers, format, feature boxes, audio players—everything can be rearranged, moved, edited according to how you want it to look.
Direct integration – Another feature that lets you customize your pages with various CRMs/Autoresponders (ex. Infusionsoft, Aweber, etc.) and social networks (like Facebook) with a click.
Overlay optimizer – This is a recently added feature that allows you to add the trendy "2-step optins" and more on your page (without having to mess with nasty javascript).
Fully responsive – This is a common among themes these days but it's worth noting how your specific designs and features are perfectly adapted to mobile and tablet screens with this feature.
Depending on what you need it for, you can use OptimizePress 2.0 to build a basic landing page to one that can handle your most sophisticated marketing funnels.
Support
★★★★
Not to say that the theme's overall customer support platform is bad, more of, they could do a little more. Their email support is great. If you send in a question, you'll likely receive a reply within the next day. Their online support is also pretty comprehensive.
But how great would it be to have a live customer chat feature that can guide you through the process of learning the different elements of OptimizePress 2.0?
That said, a bulk of those four stars are built on the fact that this particular theme never stops evolving. It listens to its users, it tries to understand what its users need and it constantly provides new features that are meant to make the whole user experience easier and better.
Value for Money
★★★★★
OptimizePress 2.0 is available in three packages.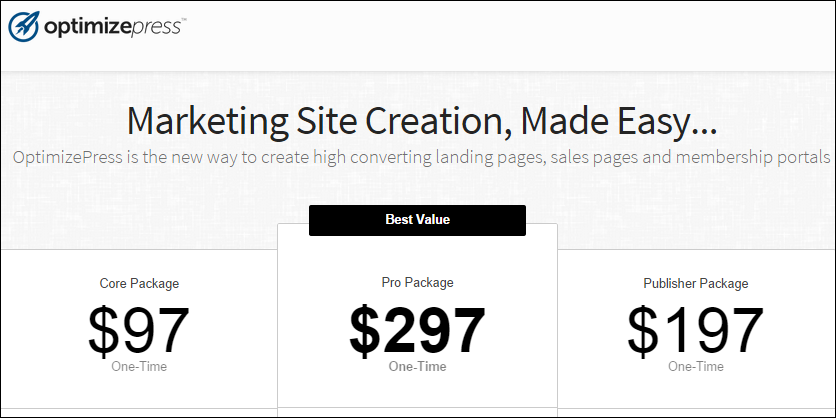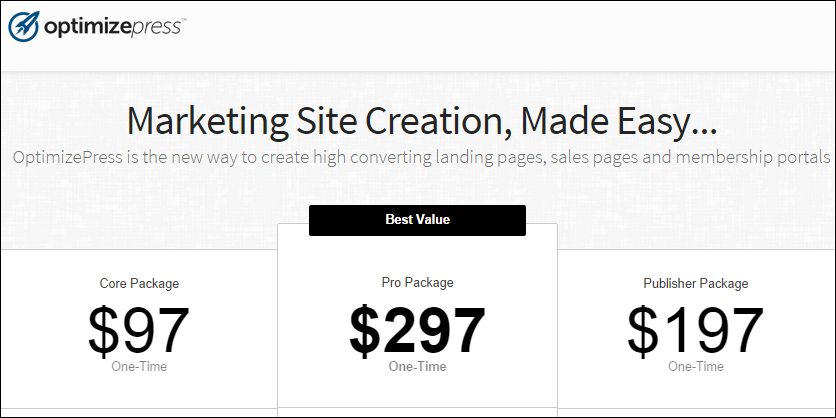 All are one-time only payments, with the cheapest option allowing you use for three sites, the next one for ten and the most expensive option, for unlimited sites.
Marketing Usefulness
★★★★★
Five out of five! If there was ever any doubt, just check out the who's who of digital marketing… Chris Farrell, Ryan Lee and James Schramko.
This is a product that simplifies the entire page building process down to a few clicks. Does it have its drawbacks? Of course. A notable complaint is that pages can be a little slower to load; mostly because it's doing a lot more things than regular pages.  But that can be easily fixed with a good caching plugin.  Not to mention, based on how fast they turned their product around from when they first launched, I have no doubt they'll find a way to sort this issue out and improve it as it continues to update.
Check out OptimizePress… it's worth adding to your marketing tool belt.  We did!
– Mercer