The Anatomy of a Great Wordpress Blog
Is it possible to…
Create a website that can rank at the top of global searches?
Pull numbers impressive enough to generate a six-figure revenue?
Be one of the most read and credible resources of consumer psychology?
Create a raving fan base that gets hundreds of comments and shares?
Yes!
Derek Halpern did it in just two and a half years.
Is this something that you can do, too?
Sure!
And a great place to start would be with your blog.
A big part of how Halpern's www.socialtriggers.com managed to build a site that is read by over 300,000 people with 125,000 subscribers, in my opinion, can be credited to the way he designed it.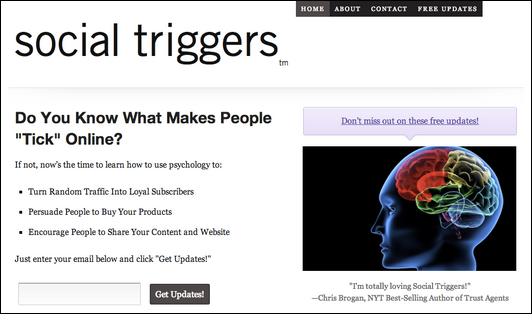 That's his homepage. Simple, streamlined, informative. And it actually compels people to sign up for his mailing list.
How?
For starters, Halpern gets right down to business.
Halpern uses WordPress for Social Triggers, and while it is responsive and easily customizable, I wanted to focus on the individual elements found on this blog that actually work to optimize conversion for his site.
In the interest of reducing clutter, Social Triggers immediately offers people a clear call to action.
Let's check out his homepage again: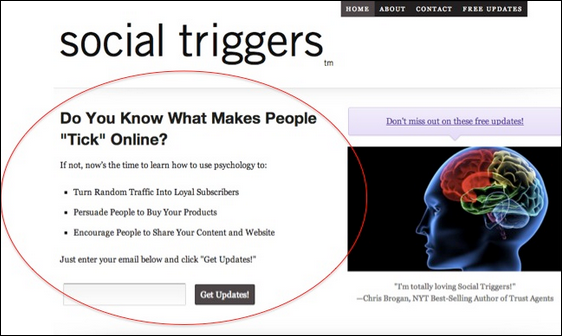 I'm a firm believer that blogs should make it a priority to build their email subscription. And for that reason, your site should be clear about what you want from your site visitors. In Halpern's case, he prominently displays his desired call to action in a Feature Box between the site's header and the content, and this opt-in feature is going to be the reason why you can get almost 40% of your email conversions.
He manages his pages efficiently
Notice how he uses his sidebar to provide another opt-in form.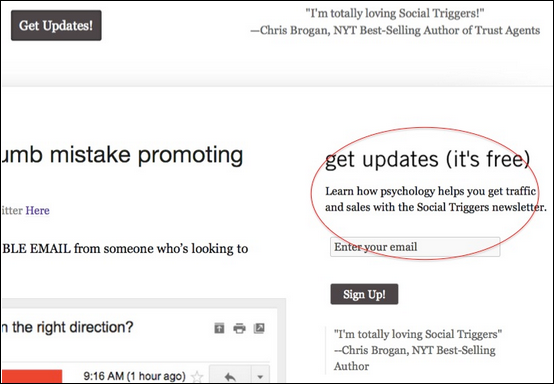 This provides multiple opportunities for site visitors and readers to sign up regardless of where they are on the site. Be sure that you use different copy on the sidebar opt-in to avoid making your visitors or readers feeling like you're pushing too hard on a particular service.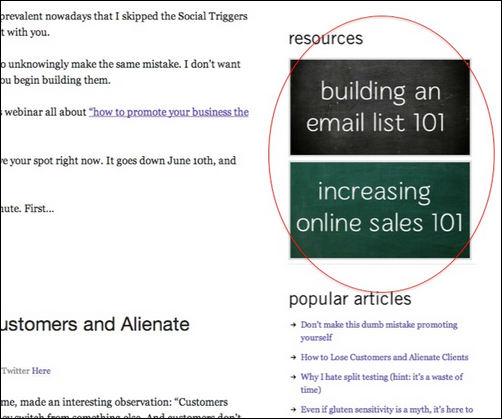 Resource pages are a collection of articles you've specifically chosen regarding a specific topic. They don't all necessarily have to be your articles—they can be written by several authors but all just happen to be the best resources about a particular subject.
Adding these to your website can:
Help your site rank higher in searches for these specific keywords or phrases.
Add usability and relevance for your website.
Helps convert visitors to become subscribers.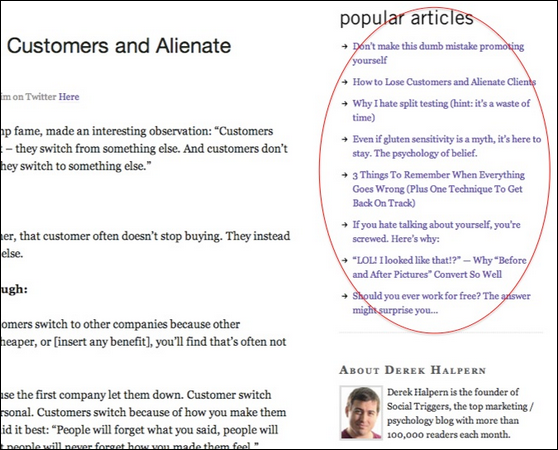 This gives your audience an opportunity to easily access more articles from your blog, allowing them to explore what else you have to offer easily. It also builds the credibility of your posts.
All these additional options meant to encourage visitors to explore his site are kept away from the main section of his blog where his feature page and content are available.
He knows how to follow through
Halpern uses the efficiency of his site's format to play on the readers interest. Understanding the psyche of his site's visitors certainly helped him figure out that once a visitor has read through an entire post, they are more likely to take action. What Social Triggers does is give them the options for their possible next steps.
Check out how he seamlessly transitions his blog content towards his other products—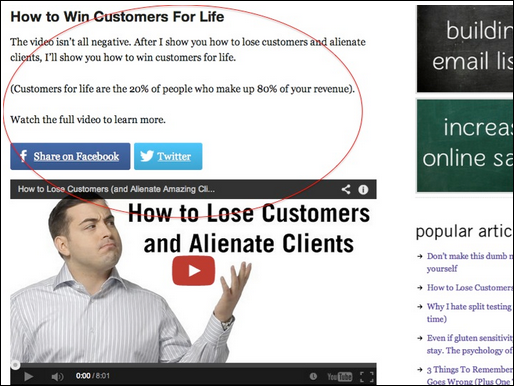 Further down, he also offers readers the option to once again be part of his mailing list which makes sense because, if you've just finished a good article, you're more likely to sign up for more.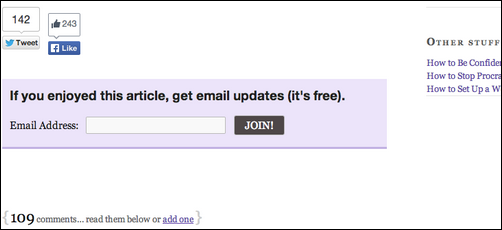 He gives opportunities for audience engagement and interaction
A comment page is typical for any site but if you notice, Halpern usually gets at least a hundred comments per post.
Chalk it up to his diligence when it comes to posting good content, and the effort he puts into replying to his readers. He's also not afraid of stirring up the conversation.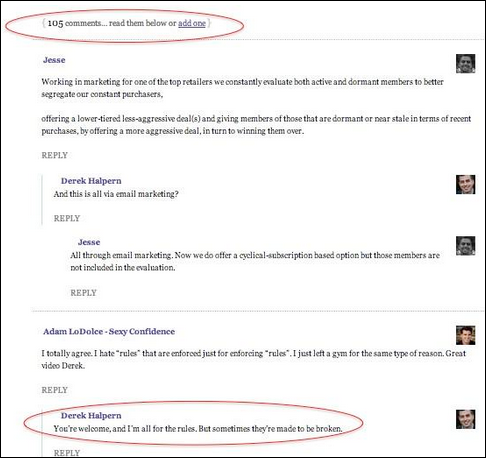 Halpern also readily provides his audience the chance to share the particular post with the social buttons ready to be clicked at the bottom of the post.
I did notice, however, that he doesn't have Google+ on there and personally think that he's missing out. Google+ can serve as you direct pipeline to Google and will ultimately lend itself to improving your authorship.
He brings focus to his strengths amid all the noise
His feature box says (or rather, asks) it already—"Do You Know What Makes People 'Tick' Online?" This puts the spotlight on the implication that Halpern does. And this assumption gets reinforced below as the site goes on to feature the different topics that you can explore.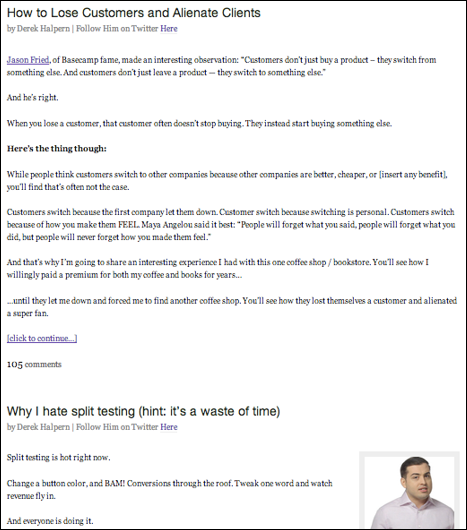 Finally, he provides numerous opportunities for a visitor to discover his credibility
This is especially important for new visitors to your site, because after they find themselves on your blog, their next step usually involves finding more about the person behind the site. Often, they will seek out your About page.
Halpern addresses this by prominently featuring his on his clutter-free homepage.



But that's not the only place where you can find it. While browsing through a blog post, Halpern also gives you the option to discover more about his site from the sidebar.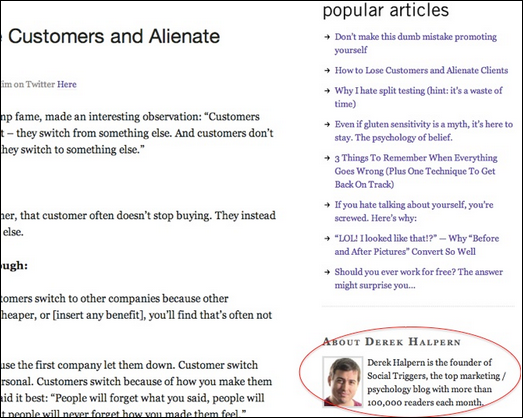 Again, another additional feature that doesn't clutter the actual meat of what your blog has to offer.
Individually, these little things may not really seem like much. But collectively, they work together in a way that actually makes a difference in terms of converting visitors into loyal subscribers.
With that said, always remember that getting your right formula will involve a little trial and error. Even David Halpern went through several iterations of his blog before he finally launched Social Triggers.
Give it a try with this Seriously Simple Marketing hack—


Open your website and give it a thorough review.
Does it share the components of www.socialtriggers.com?
Figure out what components of your blog you should tweak and it one at a time.
Be sure to track the changes to see how well it's working out for you in terms of conversions. You can easily do so by signing up for Google Analytics. Don't worry about not doing everything in one go. The important thing is that you're getting there.
– Mercer